Eric Leach reports on the demolition of a local landmark.
Here you can view the on-going demolition of St Helena's Home, which overlooks Drayton Green. Built in 1896 the home was a refuge for fallen women, run by Protestant nuns, for over 50 years. The women, many of them single mothers and prostitutes, worked hard in the home's laundry and were effectively incarcerated. However the home must clearly have saved and extended the lives of many women who for one reason or another were excluded from society.
Ironically the organisation which is demolishing the building was founded by a Protestant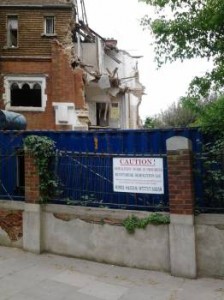 vicar – Rev Bruce Kendrick – in 1963. He founded Notting Hill Housing (NHH) to help squatters find places to live with improved security of tenure.  NHH is now a property development company whose Chief Executive according to 'Private Eye' earns £146,000  a year.
NHH refused to re-use the building and convert it into flats. It wanted to demolish it and build a block of 26 flats in its place. Planning permission has not been granted for NHH to build its legoland architecture residential block – but it's smashing St Helena's Home to pieces anyway.
Eric Leach
21 April, 2011
PS There's a more background to the story of 51 Drayton Green in our July 2010 newsletter here.