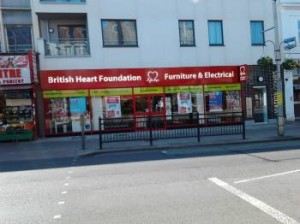 British Heart Foundation opened the doors of its new shop today and it set me thinking about charity shops and our high street. I thought first off I'd better count how many charity shops there are along the street between the Lido Junction and the junction with Eccleston Road. I counted 8 (including the Salvation Army) plus the mystery Storefair which threatened to open back in September but has remained resolutely shut for months.
In my experience most of these shops are usually busy and you have to manoeuvre your way round them between the clothes rails and the shoppers. So, I think the BHF shop, which sells electrical goods and furniture, is a clever move as it fills a gap in what charity shops usually offer. Most charity shops won't touch electrical goods as they have to be properly checked for safety etc. When I went in this morning it was packed both with goods and people and looking at what is on offer in BHF I was impressed. I think it will do well.
There's a much wider question raised not just about charity shops but also about what sort of future we want for our high street? But I'll leave that for another time.
David Highton