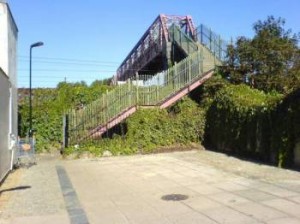 Following on from his recent post about Jacob's Ladder Eric Leach follows this up by saying 'We have been campaigning for improvements to Jacob's Ladder for over three years. For those who don't know, Jacob's Ladder is the ancient footbridge which crosses the railway line from the western extremity of Waitrose's car park to Manor Road. The bridge is a vital link between Green Man Lane Estate, St  John's School and the centre of West Ealing and Drayton Green, Drayton Green  School and the Berners Drive Estate.
The bridge is rusting badly; the southern staircase is somewhat unstable; and the lighting is extremely poor. In 2008/9 for long periods only one of the three lights was working.
After much toing and froing involving the Cleveland Ward Forum, money was allocated by Ealing Council to replace the poor lighting system with a much improved one (featuring five lights). Network Rail (the owners of the footbridge) eventually and reluctantly agreed to the upgrade – but only after it was agreed to pay them a fee for the privilege. That was in Summer 2010.
Ever since Ealing Council have been trying to get formal permission from Network Rail to actually carry out the work. Lawyers and paper pushers at Network Rail have held them up now for over eight months. How ironic that at a time when financial cuts are being made we have this funded project with cash allocated and a large company's intransigence is preventing the project from going ahead.'
Eric Leach