When I took a break from being on the WEN Abundance stall at the Hanwell Carnival on Saturday I wandered over to visit the W7 Emporium stall. W7 Emporium has been set up by Hanwell resident Claire Rosser and is a brilliantly simple idea. She offers a monthly cheese subscrption service whereby for £24 a month she will deliver a carefully sourced and selected range of British and international cheeses. For your £24 you get 1kg of cheeses, often award-winning, which you're not likely to find in your local supermarket.
I bought five cheeses from her at the Carnival and we had a tasting last night,  and they were all good. Some deliciously strong cheddars, a tangy ewes milk cheese and a very creamy Shropshire Blue amongst them. She will deliver to the W7, W13 and W5 areas on the last Friday of each month.
I'm about to fill out my subscription form and you can find out more details by emailing w7emporium@gmail.com or call Claire on 07828 971200.
I'll update this post after we get our first delivery.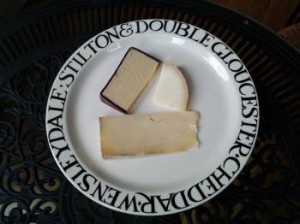 David Highton