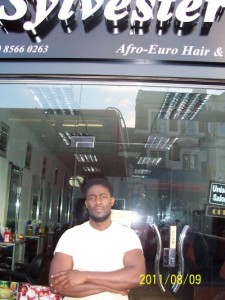 Plainly we need a miracle. One man stood in West Ealing Broadway all night and witnessed what happened. He described a scene of random violence and looting. Police cars sped through, presumably too outnumbered to dare to stop, as 2-300 young people, masked and hooded, went on a frenzied spree hurling paving stones into shop windows. The shop that sells fancy trainers was the first to go. Blockbusters was smashed open and emptied; Play Stations walked out and became currency on the street. Seba Electronics was emptied – one of the few remaining independent electronics shops owned by a gentle man who writes inspiring sayings on the wall outside. What will he do now? The Bargain Store – rugs, mobile phones, luggage – was broken into. Cash Converters put up a brave label, saying they'd be back.
The man who bore witness, Mike Sylvester, who runs Sylvester's Hair and Beauty, just stood outside his plate glass window all night – and he's planning to do the same tonight. 'Weren't you frightened?' I asked him. 'Not really,' he said. 'I just kept saying "don't set fires". You have to be careful. One young guy tried to stop them trashing Blockbusters and his face ended up covered in blood.'  Mike worries that young people are simply very angry and don't care what they do.
Mike, and people like him, are a ray of light. One person said that Southall shops remained safe because the families that own them came out in force to stand guard.
We asked the people at the Bargain Store what help they needed, as they rushed to board up their shop – still wide open to the world at 7pm. They said it was enough we thought about them. We asked the Afghani veg and fruit shop, as they brought down the shutters early, what we could do for them. They said prayer was the only answer and gave us free bananas to thank us. All we could do was walk and talk. Mike said that things like Family Day on 24 September (a 'new' West Ealing tradition that started last year) are more crucial than ever. Meanwhile, he's performing his vigil tonight again. I can't help feeling it would have been worse last night without him standing there, an almost silent witness – a symbol of patient sanity, of adulthood.  I hope he stays safe. I wish I was brave enough to take him a cup of tea.
All we keep asking is 'What can we do?'