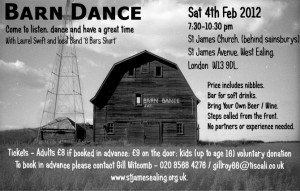 Barn Dance/Ceilidh in the heart of West Ealing – easy steps, lots of people – come alone, come with family, come with friends. Steps called from the front. Get it right, get it wrong, bring all your left feet. Nibbles included in £8 adult ticket (advance booking) – bring your own beer/wine. Kids of all ages welcome – admission free/donation up to age 16.
Local Ealing 'live'  folk band will be out in full force, wrangled by folk professional Laurel Swift.
Sat 4th Feb 2012, 7.30-10.30.
St James's Church (behind Sainsbury's in W Ealing), St James's Ave, London W13 9DL.
Book in advance Gill Witcomb, 020 8568 4276/gillroy66@tiscali.co.uk.   Adults £8 if booked in advance, £9 on the door, kids (up to age 18) voluntary donation
Please forward this to anyone/any organisations you think might be interested.