Ealing Council will start work next Monday (16th April) on putting in pedestrian crossings and other changes at the Lido Junction.  This is great news and will make an enormous difference to pedestrian safety for many residents. Nevertheless, please be aware of delays at this junction over the next 10 weeks.
Every effort is being made by the Council and their contractors to plan and progress the works in an efficient and timely manner in order to minimise the impacts on pedestrians, residents and motorists. Signs advising alternative routes for traffic are due to be installed in the coming days and wherever possible work will be scheduled to avoid peak hour traffic flows.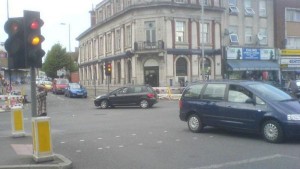 Your patience will be much appreciated whilst the work is being carried out and the end result will be a much, much safer crossing.