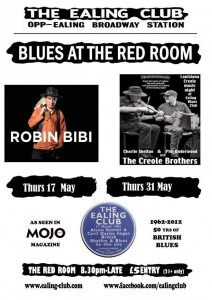 As a long-time Blues music fan I'm delighted at the revival of The Ealing Club. The team there have worked so hard to get live blues music back at the home of British Blues Music.  The Ealing Club is still in its original home, now called The Red Room, and is putting on regular music sessions.
This month the Blues nights are the 17th and 31st May:
The Ealing Club
Thursday 17th May
Blues Guitarist ROBIN BIBI + support from the Riotous Brothers. A must for any Blues fan at the Home of British Rhythm and Blues
Thursday 31st May
Louisiana Cajun and Zydeco music arrives to the heart of Ealing with the Creole Brothers.
Tickets at £5. Starts at 8.30pm. Box Office: 07927 965797
In addition, The Drayton Court Hotel continues its regular EELDADDY  music nights with the next session being:
Friday 8th June
S. Townshend, DuBellows and Blushing Bones
DuBellows and Blushing Bones recently appeared at OPEN Ealing so I can recommend them. Go to the Ealing Club website for more information and to buy tickets.