I've just walked back from OPEN Ealing and passed police cars and ambulances all over the place. Then I saw an air ambulance in Dean Gardens. It looks to me as if an incident took place in Chapel Road, location of a major fire last year, and someone was taken by road ambulance to the air ambulance which had landed in Dean Gardens. More information when we have it… think I've just heard the air ambulance fly over our house.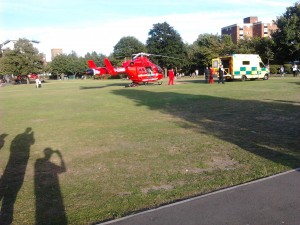 UPDATE – Saturday from Ealing Today website
Seems a man in his 30s was attacked in Chapel Road and left in a serious condition and then airlifted to hospital in east London.