A couple of weeks ago I said I'd post some of our local history pieces from past newsletters. Here is the first of three articles by David Shailes on the origins of some of our local street names:
Origins of some local street names – part 1

When the streets of Ealing were originally laid out the landowners and property developer got to choose the names, so the reasons for their choices are generally not recorded and are lost in the mist of time. Researching street names is interesting for lots of reasons as some have names of local historical interest, others have no local connections and some are linked to events in history.

The length of this article means that we can only scratch the surface of the 200 odd roads that have a W13 post code.


 A set of my personal favourites are the Australian named roads: Adelaide Road, Brisbane Road, Sydney Road and Melbourne Avenue and these were all on land developed by the Steel family and it is known that Charles Steel whose market garden at one stage made him the largest rate payer in Ealing, went to Australia to see how they did things down under. So this may be the reason they have such names.

 Loveday Road takes it name from William Lockyer Loveday, who owned land in Ealing, but lived in Devon, which he left in 1860 to start a new life in the State of Illinos in the USA. His son eventually became the owner of what was called the Loveday Estates and these were sold in 1896 for £60,000, a considerable sum of money. The St Kilda and Marder Estates, have also given their names to two roads.


 Horticulture gave us Leeland Road andTerrace, as these stand on part of the land that once was part of Charles Lee & son's Ealing nursery, they had other nurseries in Hammersmith (The Olympia Exhibition hall stands on the site), Feltham, Isleworth and Hounslow. They used the site to grow fruit trees, roses and shrubs.  
 As a child I lived in Green Avenue and never gave the street name a second thought as there are no other streets named after colours nearby. It appears that the name relates to a H.C. Green who was the very first mayor of the Borough of Ealing in 1901/2. Next to this road is Cranmer Avenue that runs up to St Paul's Church and on the opposite side is Ridley Avenue, which take their names from two Protestant Martyrs burnt at the stake by Mary Tudor (Queen 1553 to 1558).

The 1777 parish map reveals that North Field Lane (now Northfield Avenue) and Mattock Lane have been with us for over 200 years. My mother who lived in Ealing right up until her death in 1983 always referred to going shopping as up the "lane" meaning Northfield Avenue. Drayton Green existed as a small community on this map, which gave its names to several nearby roads.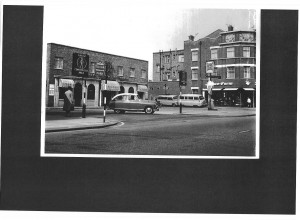 Green Man Lane took its name from a old coaching inn on the Uxbridge Road, the second world war damaged pub being rebuilt in the 1950's (photo above) was demolished in 1981 and replaced by the block which Iceland is now in. The inn existed on the 1777 map and was an important stabling facility for over 100 horses on the London to Oxford road and on further west to Fishguard  (No A40 in those days!).
(to be continued)
David Shailes