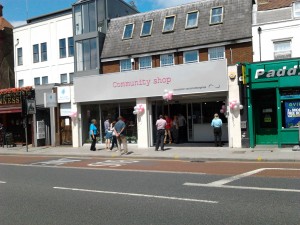 I dropped in just after noon for the official opening of this new charity shop in West Ealing and it was jam packed with people looking, buying and enjoying the free food for the launch. The dressing of the shop window, its design, lay out and feel make it a cut above the average charity shop. A lot of thought and effort has gone in to making it look and feel like a good quality commercial retail shop. It has two main offers – a picture framing service and good quality second hand clothes.
The shop is near the traffic lights at the Eccleston Road junction and is run by Accession, a local social enterprise, and one of its aims is to 'offer skills training and employment pathways into the mainstream job market, supporting the economically inactive and marginalised parts of the population for whom traditional employment training programmes and routes into work may not have succeeded. Prominent amongst this group are people with severe learning difficulties, people with enduring mental health needs and people on the autistic spectrum. Accession will also work with long term unemployed people from outside these groups.'
On this showing, this Community Shop will be a very welcome addition to West Ealing and help attract more shoppers to this end of the high street.