Every now and then I take a walk by the ever-changing Green Man Lane Estate to see what's happening. I'm particularly interested in what's going to happen in the community cafe.  And at last there's something happening.  A pop-up cafe is opening next week.  It's run by Coco Labelle who describe themselves as follows:
'Coco Labelle is a family run local catering company offering exotic foods, live entertainment and childcare.
We are now providing pop ups in London to bring you the mauritian, jamaican and italian flavours that we love! We also share with you the finest musicians in London treating you to live jazz, soul, reggae and pop.
Best of all if you have kids, this is the place to be! A place to relax, eat, catch up with your friends, catch a gig all whilst your kids play safely in our creche enjoying our structured activities.'
The cafe is near the junction of Singapore Road and Brownlow Road. Children's activities start on Tuesday 12th August and below is a (not very good) photo of their activities for the week. A detailed schedule is on their website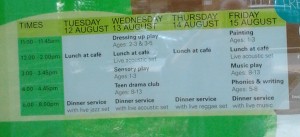 You can find out more about Coco Labelle here