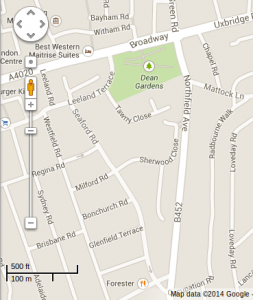 If you live in the roads near the Sherwood Close Estate (shown on the map) then you may well have had a green coloured leaflet through your letterbox yesterday.  It's about the traffic access arrangements for the redevelopment of the Sherwood Close Estate. It's worth taking a few minutes to read it and think about the issues it raises and whether these concern you.
Access to the new development was always going to be tricky as most of the nearby roads such as Seaford Rd and Westfield are narrow and heavily parked up on both sides.  It's already difficult for delivery lorries to get round these roads.  Our worry is that the access plans for the new estate do little to improve this.  With an increase in homes of some 100 or so, which means about 200-250 new residents on the redeveloped estate, logic says there will be more deliveries.  Yet, access to the estate from the north or south will still have to be via the existing narrow streets or, to be precise given the current road system, via Westfield Road and then along Glenfield Terrace, Bonchurch Road or Milford Road.  Access from the east and west should be better as there will be a new road off Tawny Close.
We feel there is a good case for a careful review of the traffic routes and traffic flows in this whole sector of West Ealing – from Leighton Road in the south to the Uxbridge Road in the north and from Seaford Road in the east to Grosvenor Road/ Seward Road in the west. We think it's important not to make a decision about access to the Sherwood Close Estate in isolation from already residents' concerns about traffic problems that already worry people living in these streets.   We say, let's step back and take a good look at this whole area and avoid piecemeal decisions.
The leaflet gives details of who to contact if you have concerns about this.  These include the three Walpole Ward councillors who cover the area concerned. You can find them here.