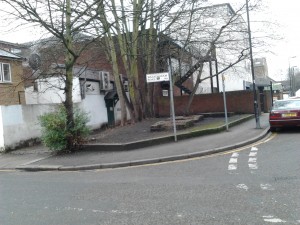 Good spot for some guerrilla gardening?
Over the three days of Thursday 28th – Saturday 30th May West Ealing is getting a clean up.  Can you spare a little time to help?

Over three days at the end of May, InWestEaling is joining forces with local businesses, Ealing Council, recycling contractors Amey and First Mile, residents and community groups to clean up West Ealing town centre.

Mopping, washing, painting, sweeping, dusting, sorting, recycling, scrubbing, sanding, weeding, planting, there is a task for everyone. There is a call for volunteers and equipment to ensure the project achieves maximum impact. This is an opportunity for the businesses and residents to get together to make West Ealing a brighter town centre for everyone to enjoy.

InWestEaling is an organisation funded and led by local businesses to promote the town centre and represent businesses on issues of common concern. As part of its work it holds events and markets and supports retailers and other businesses to reduce their costs. It offers training and development courses and works with partners to make West Ealing a safer town centre to visit, shop and work. The 'Cleaning West Ealing' campaign brings together organisations and individuals who want to improve West Ealing's town centre.

Phil Hall Chair of InWestEaling said: 'This is a great opportunity to focus time and attention on West Ealing and for groups to come together to make a visible impact on our high street. I call on local businesses to join forces and help make this the success it deserves'.

Over the three days of Thursday 28, Friday 29 and Saturday 30 May teams will be out and about cleaning up West Ealing. Drains will be cleared in Green Man Lane, telephone boxes washed and tidied and areas weeded and planted. There will be a free waste amnesty with businesses able to throw away unwanted items in the skips provided. In addition, there will be unlimited recycling with waste electrical and electronic items collected for free. Pavements will be jet washed and waste bins will be cleaned along with a host of other cleaning projects.

Ealing Council has run similar transformative clean up days and Cllr Bassam Mahfouz, the council's cabinet member for transport and environment said: 'We are all responsible for keeping our environment clean so everyone can enjoy it. InWestEaling is leading a fantastic initiative and doing great work to ensure businesses also do their part in making West Ealing a vibrant and clean place to live, work and relax. I want to encourage as many people as possible to get stuck in to help this worthwhile project which I am sure will be enjoyable and rewarding.'

For more information about InWestEaling or to volunteer contact the InWestEaling team:
Tel: 020 8231 2369 Email: info@westealingbid.co.uk Website: www.inwestealing.co.uk