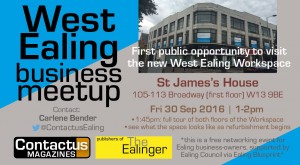 Keen to have an early look at the future home of the West Ealing Co-Workspace Hub?
Come along to the first event being held in the future home of the shared workspace – and after 45 minutes of business networking and one-minute pitch presentations, we'll go on a tour of the two-floor facility.
See what the building looks like now, visualise how you could use the space and take this opportunity to get involved and give some feedback.
When: Friday 30 September, 1-2pm
Where: First floor of St James House 105-113 Broadway, West Ealing W13 9BE (entrance is on St James Avenue)
This is a free event for SMEs, being run by ContactUs and supported by Ealing Council. Registration is required and places are limited.
Please RSVP via Eventbrite by Wednesday 28 September.