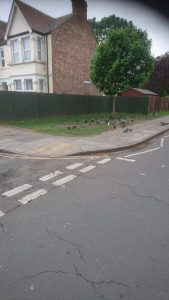 I'm sure you all know this little piece of green on the corner by Sainsbury's. It is home to dozens of pigeons, frequently covered in bits of bread and, sometimes, black bags of dumped rubbish.  It seems such a shame that it's become an eyesore. What can we do to make it look better? If we can come up with some ideas WEN can put them to the Council and talk to them about these ideas.
I've heard a few ideas suggested such as cycle racks, artwork/sculpture and flowers, herbs and  shrubs (that can withstand the pigeons). I'm sure there are lots of other possibilities. Could you please spare just a few minutes to give us your ideas and comments so we can put these to the council. I can't guarantee what the Council will decide but I'm confident we can put some really good ideas to them.
Pease email your ideas to us at westealingneighbours@gmail.com
Many thanks for your help.