Local actors Halie and George will perform excerpts from well-known children's literature. Each performance will contain three excerpts after which, the audience will be encouraged to guess where the excerpts are from. Audience members who guess correctly will have the possibility of winning a special treat!
The sessions will last 30 minutes, running at 11am, 12pm, 1pm and 2pm.
Also joining us is local artist, Komal Madar. Komal will be leading a community canvas painting experience, where visitors are invited to doodle, draw, scribble and sketch what they love about West Ealing. This activity is Inspired by the Uniqlo TATE Play programme and the Gutai group of radical Japanese artists who sought to change the world through painting, performance and children's play.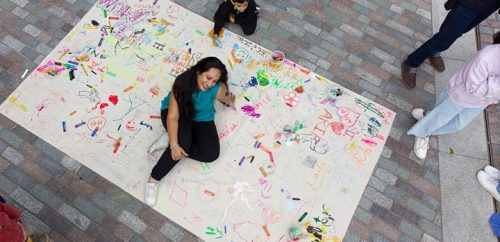 A similar session will also be run in three other locations within Ealing. The four artworks will them form an installation at a local art gallery – soon to be announced. Register to hear first!
Our free activities and events offer families new ways to get creative and playfully explore art together. This activity is open to people of all ages and all drawing materials are provided for free.
There will be an eating area right by the performance space, so grab your favourite dish or snack from the local restaurants on offer and take a seat.
Seating is assigned on a first come first serve basis but there will be plenty of space to sit around the activity. Register for updates as we confirm some of our restaurant partners.
Celebrating Ealing's green spaces and high streets, this free event will take place in Dean Gardens with the buzz of The Broadway setting the scene.
The event is free and to register follow this link.
The event is being put on by Ealing's High Street Task Force.