Signs by Jacob's Ladder (the ancient footbridge over the railway linking Green Man Lane Estate with Drayton Green) inform us all that the footbridge will close at 9:00am Monday 9 May and re-open at 5:00pm on Wednesday 11 May. The signs don't tell us why.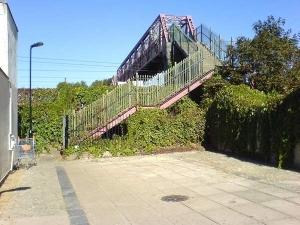 It's unlikely that the works to be undertaken will be the much needed rust proofing and painting of the bridge, as this would surely take more than two days.
Sadly the closure won't be in order to install a new, improved lighting system on the bridge. Although this work was agreed with Network Rail in Summer 2010 Ealing Council has been unsuccessfully wrestling with bureaucrats and lawyers at Network Rail for eight months. However the Council has still not been able to obtain a licence from Network Rail to carry out the lighting works.