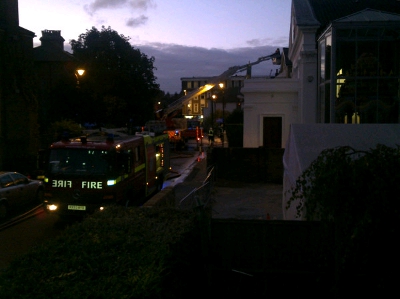 Apologies for not having the time to put up a post yesterday. The fire was in a top floor flat in one of the houses in Chapel Road – just off the Uxbridge Road east of the Lido Junction and not very far from St John's Church. When I passed by at about 5.30pm I asked the police about it and  they did not know if anyone was killed or injured during the blaze. The area was chock full of fire engines and other emergency vehicles still busy putting out the fire and quite a few roads were still cordoned off and buses parked along the Uxbridge Road.
I don't know exactly when it started but I was at OPEN Ealing just down the road and we first smelt smoke mid-afternoon, went up to the 4th floor and could see smoke pouring from the fire. As OPEN is opposite the fire station we certainly heard the fire engines heading off!
The last serious fire I can remember in central West Ealing was sometime in the early 1980s (?) when a small factory caught fire off Grosvenor Road – at least I think that's where it was.