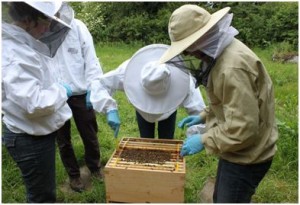 Thanks to WEN Abundance volunteer, and novice local beekeeper, Veronica Chang for this update from the Walmer Gardens community orchard:
"Wow, 30 jars of honey!! That's amazing. I hardly had any from my hives this year".  That comment from an experienced bee-keeper in Suffolk was a real testament to the good fortune we had with the hive in the Walmer Gardens orchard (helped along by a bit of skill, dedication and enthusiasm from our beekeepers too).
 An encounter with Sarah Dye during an Abundance blackberry-picking session led to my involvement with the Ealing Transition Community Bee group, which Sarah was setting up.
Our bees arrived in April this year and over the spring and summer months we carried out weekly inspections of their hive.  We checked to see if the queen was present, if there were eggs, and if the eggs were turning into adults.  It was amazing to see the workers (female adults) bring in the pollen in such a fantastic array of colours, and they managed this despite the appalling summer weather. And of course one of the most rewarding and exciting things for us novice beekeepers was being able to take our wonderful crop of honey in August.   As the cold weather descends we ensure that the bees have enough food to get them through the winter; and we look forward to next year, with hopefully a good harvest for us, and my friend in Suffolk too.