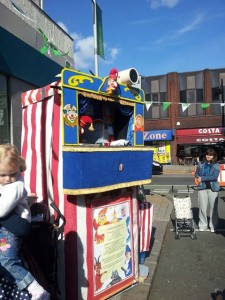 Punch and Judy Show in Leeland Road for last year's Family Day
There's plenty of children's entertainment at the SoundBite Festival on Saturday 21st September.  Hugely popular at last year's Family Day, Punch and Judy are back again for the SoundBite Festival. Catch them at 10.30am and midday at the farmers' market in Leeland Road.
In the garden at St James Church (or inside if it's wet) will be Relish Kids Cookery running cookery activities for primary school age children, alongside facepainting, table tennis and more. There's also going to be a special community dance event for children to take part in. More news of that to follow.
To keep up to date with everything that will be happening at SoundBite on our Facebook page