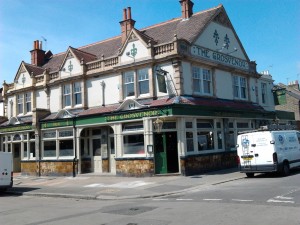 A group of us went for dinner to The Grosvenor on its opening last night (Tuesday).  We expected it to be busy but it was packed- luckily we had booked a  table.  The decoration, inside and outside, has been carefully thought through with the highlight colour being the green from its stained glass.  It's interesting how they have refurbished it with many original features retained.  They have created a very pleasant atmosphere which worked well both when it was packed out last night and at luchtime today when we dropped in for a drink and lunch when it was much quieter, though a steady trickle of people dropped in, perhaps curious to see what it looks like.
I'm very wary of attempting to review its food as the first night was a bit of a dry-run to see how it all worked.  Even so, I can say that all six of us thoroughly enjoyed our food and would very definitely go again.  We also all thought the staff in the dining area did a great job with a real sense of enjoyment and that helps create a very pleasant experience.
A lot of thought has been put in to the refurbishment and the owners have put in a hefty investment to transform this once run-down pub.  The choice of colours works well, the stained glass windows are now a stand out feature and the tables in the dining area have been cleverly set up at various angles, and not too close together, to avoid any sense of being jammed together.  All in all, I'd definitely recommend you go and try it for yourself.  It's got off to a fantsastic start and has the potential to be a great success and an asset to our local community and beyond.  I wish it every success and we will certainly be going back soon.
Details of booking a table etc are on their website