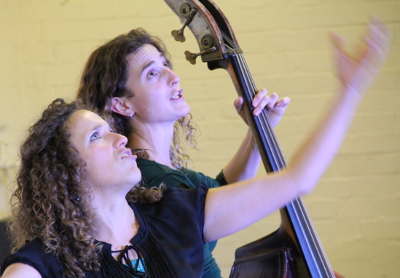 Laurel Swift (the one with the double bass) teaches her long-running folk workshop to local folkies at the Drayton on Monday nights, and now offers to West Ealing:
'Under Her Skin'
Directed by John Wright
The Drayton Court, The Avenue, West Ealing  **   15-17 January 2013  **  7:45pm  **  £5
An epic tale, a modern twist, two voices, four feet and eight strings.
Debs Newbold and Laurel Swift bring a rich and innovative collision of forms to their first full-length collaboration – a story of loss and regret that is also funny, irreverent, moving and dripping with streetwise credibility. Combining dynamic performance storytelling with the effusive energy of traditional dance and music, Under Her Skin sweeps audiences into a rich imaginative landscape.
 "…a glorious, raucous, joyful show which manages seamlessly to combine the raw energy of dance, the earthiness of social realism and the magic and wonder of myth into an entirely integrated, expertly realised evening's entertainment."
GILES ABBOTT
This is storytelling crafted especially for adults. Based on an ancient British Selkie (seal people) folktale and set firmly in the here and now, it is an integrated show, inventive and theatrical yet with no fourth wall to get in the way of any mischief!  Debs Newbold's highly acclaimed and charismatic storytelling voice joins the double bass, fiddle and clog dynamism of Laurel Swift to create an explosion of joy.  Under Her Skin plays freely with the conventions of storytelling and gives an ancient British folktale a strong contemporary retelling.
Laurel Swift is an Associate Artist of the English Folk Dance and Song Society