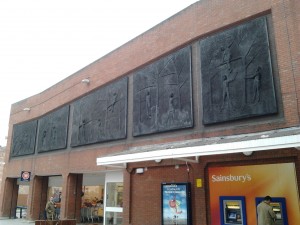 Chair of WEN, David Highton examines the history of some interesting artwork in the centre of West Ealing
When we first moved here in 1978 there was a small Sainsbury's in the Uxbridge Road not far from the current one. And I well remember this Sainsbury's being built on the site of what used to be the library but I can't for the life of me remember or find out anything about the five panels on the front of the shop. I've been to the Central Library and looked through back copies of the Ealing Gazette. I've even tried ploughing through pages of Council meeting minutes of the early 1980s but nowhere can I find any reference to these panels and who the artist was.
Sadly, it's all too easy to forget these panels even exist as they seem poorly maintained. They all show children playing but much of the detail is now hard to see. It's such a shame for them to go unnoticed. Does anyone know anything about them?
David Highton