Eric Leach questions Council 'regeneration' on The Avenue in West Ealing.
Way back in February 2010 we reported that the Council planned to spend £280,000 on regenerating The Avenue retail strip. Over a year later workmen are taking up lots of quite serviceable paving stones from the wide pavement on the eastern side of the road and replacing them with new paving stones. This must itself be costing thousands of pounds and there is no obvious regeneration benefit here. At a time when £millions are being cut from Council budgets it seems quite obscene to spend money unnecessarily.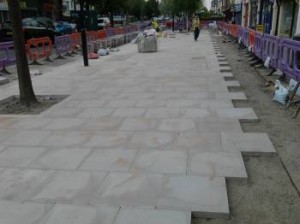 We still await the conversion of the mixed Stop and Shop and Pay and Display kerb side car parking arrangement into 'free-form' 30 minutes free parking controlled by car registration numbers. Although budgeted to cost £8,500, the new arrangement is not scheduled to increase the number of cars which will park there. These new parking slots will continue to be dominated by mini-cab car parking – an arrangement that the Ealing Broadway Councillors are quite happy to tolerate even though it works against the best interests of Avenue traders and shoppers.
What with this work underway and the conversion of The Drayton Court pub into a hotel in full swing, car parking on the Avenue is even more of a shambles than usual. When the 27 bed hotel opens in June we are promised 18 hotel car parking spaces – 6 in front of the hotel and 12 in what was part of the garden at the back. However the access road at the back via Gordon Road is terribly narrow and will be just one way.
Eric Leach