I have a bit of a personal interest in this post. My taste in music was heavily influenced by my brother who is five years older than me. He was a teenager living in London from mid-1964 onwards and he was an avid fan of blues music so was always going to the Marquee Club , Eel Pie Island and many other clubs and venues, though not The Ealing Club as he told me its heyday was over by 1964. So, Ealing's central role in the development of British blues music in the early 1960s was indirectly crucial to my musical education. Alistair who is raising funds for a blue plaque to mark the role of The Ealing Club has dropped in to OPEN a couple of times to promote his special fund-raising blues nights at the club and I hope he succeeds with his efforts to get greater recognition of the role played by Alexis Korner and The Ealing Club. I couldn't get to any of the previous blues nights in the summer so I hope this time I can manage to get along to one of the nights. Details of the three nights are below.
(You can listen to a BBC Radio 6 programme about Alexis Korner and his contribution to British music which talks about The Ealing Club at http://www.bbc.co.uk/iplayer/episode/b008tt3x/Alexis_Korner_Rhythm_and_Blues_Champion_Juvenile_Delinquent/ )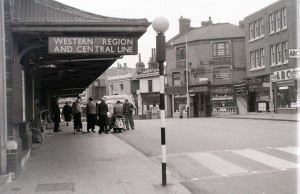 The Ealing Club Blue Plaque Gigs
To raise the final funds for the Ealing Club plaque, we have managed to put together three nights of music, featuring many musicians who realise the importance of the venue and are offering their time and input to help celebrate it.
The club, now called The Red Room, is diagonally opposite the station by the set of stairs that goes down to the footpath that brings you out on the Uxbridge Road almost opposite the entrance to the Ealing Broadway Shopping Centre.
(The photo shows Ealing Broadway station in the 1960s looking across to The Ealing Club.)
22nd November:
The Hubcaps –
Blues Covers and Original Material, with a very accomplished Harmonica Player at the helm.
The Bolaji Blues Band –
Searing Blues Guitar will be on offer from this local band, who are rapidly sealing a reputation for their interpretation, of well known blues classics.
Brace Yourself –
Following their brushes with Banksy in their former guise as Exit through the Gift Shop, this band entertained and went down a storm at their last Ealing Club Fringe performance. Guitar covers of 70′s/80′s 90′s classics.
23rd November:
Live music on Wednesday, will have a tinge of Jazz with the band Fallen Heroes, who ave already graced the Liverpool Jazz Festival and Ronnie Scotts. Cyril Davies may not have approved of the brass section but maybe Alexis would have given it a go.
The night will be hosted by Swamprock Dj's Carol Lateman and Nigel Bewley. Sure to be lively, upbeat and of the highest quality. http://thefallenheroes.com/
24th November:
The Blues Tribute night on Thursday will serve up the Blues ……Robert Hokum/Guvnors, Norrie Burnett (British  Blues pioneer who even played with Cyril Davies) Doc Stenson (Singer, Guitar and Harmonica player, who played with Alexis Korner and entertained audiences at the July Ealing Fringe Gigs) with Ramon Goose and Geoff Garbow
Please e-mail us to reserve a place on the door, as we will limit the audience to 100 per night – ealing-club@hotmail.co.uk
More details available on the websites:
David Highton