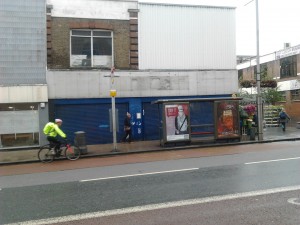 Site of proposed new hotel
A planning application has been lodged to redevelop the eastern corner at the Uxbridge Road end of Melbourne Avenue. The proposed site covers the area from Luckhurst's the butchers up to the Uxbridge Road and then above the currently empty corner site and above the new Brighthouse store. The existing first floor will be retained and two new storeys added. All the existing ground floor retail units will be retained, including the new Betfred betting shop which has an agreement to take the corner unit.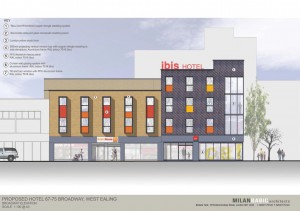 Illustration of new hotel (ignore the Ibis sign) Copyright Milan Babic Architects
There is a host of documents online about this application and I have only managed to skim them so far. There is some confusion in the documents as the official application is for a 60-bedroom Easy Hotel though at least one of the documents refers to a 70-bedroom Ibis Hotel. I can only assume the latter is an earlier version.
Easy Hotels are a franchise operation and are part of Stelios Haji-Ioannou's business empire and, from their website, they offer hotel rooms from around £35 a night.
It's quite extraordinary that after years of having hardly any hotels, Ealing and West Ealing now have a brand new Premier Inn and Travelodge within yards of one another plus the newly converted Drayton Court Hotel,the boutique Hotel Xanadu in Bond Street and the Best Western Maitrise Hotel in West Ealing. Is it all down to the likely impact of Crossrail?
I'm puzzled why such a major development for West Ealing has been delegated to officers for a decision rather than going to committee. This could be a very significant change for the centre of West Ealing. It may mean hotel supplies being delivered along Canberra Road and across Melbourne Ave. There is also no parking provision for hotel guests. A thriving hotel in the heart of West Ealing may well make a significant contribution to the local economy and help improve our high street. Even so, to my mind, this is a major development and ought to go to the full committee for a decision.
If you want to comment on this application you can do so online  and the closing date is 22nd February.