Help needed with our markets
We need some ideas, energy and enthusiasm to help us develop both our monthly craft markets and our annual arts and crafts fair.
We want to restart our monthly craft market in St James Ave again soon. We learnt a lot from our first year and we now want to take it to the next level.  I think we will be helped when the new Morrisons opens in Blockbusters as this is almost certain to bring many more people to St James Ave.
We're looking for volunteers interested in any of the following:
•Choosing the stalls for each market
•Managing the booking and admin
•Helping manage the market on the first Saturday of each month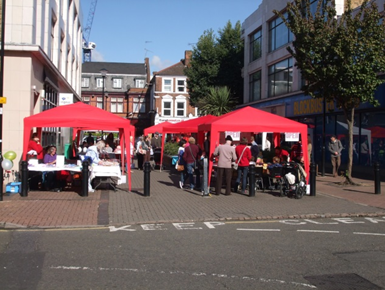 The monthly craft market in St James Avenue
On top of the monthly craft market, we need a number of volunteers to help with the annual arts and crafts fair each November in St James Church. Martyn has put on some 12 of these annual events and feels now is a good time for a change – so many thanks to Martyn for establishing the arts and crafts fair as a much-anticipated annual event.
The areas of interest are similar to the monthly market:
•Choosing the stalls
•Managing the bookings and admin
•Organising the lay out of the market in St James Church
•Helping run the event on the day
•Managing the volunteers who help set up and clean up
Both these events are fun to be involved and offer a great opportunity to be at the heart of what's happening in West Ealing.
If you're interested in helping please email us at westealingneighbours@gmail.com