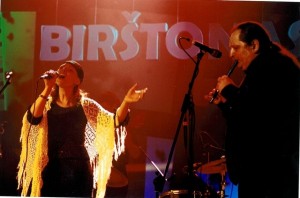 Not what you might expect for a folk evening! OPEN Ealing present an acoustic evening with Lithuanian singer June on Saturday 17th August at 7.30pm.

Having grown up in a part of Southern Lithuania, Dzūkija, where traditional singing is still very much a part of daily life, June likes to sing authentic old Lithuanian folk songs. From a very young age, she has taken part in Lithuanian national youth contests. She has sung with one of Lithuania's most famous folk bands,"Vydraga", and has recorded a number of songs and instrumental music with this band for Lithuanian national TV and radio.  
June treats the old authentic folk music of other countries with love and respect and incorporates the ideas into her musical vocabulary. She was able to express many of her ideas with the A.Klova folk-jazz quintet. She collaborated in a project with the Senegalese master percussionist Pierre Kouyate. The famous jazz musician Vladimir Chekasin was fascinated by June's voice and invited her to participate in his world music project at the "Mama Jazz" international festival. 
At the request of the organizers, June represented Lithuania at the contest"Country Europe' before the "Piknik Country" festival at Mrągowo in Poland. After performing in both the contest and the festival, she was invited to perform at Warsaw's principal country music clubs and at festivals in Germany and Poland. She was highly praised by the noted Polish country music critic, Ewa Dabrowska.  
OPEN Ealimg, 13 Drayton Green Road, West Ealing W13 0NG
Suggested donation £5.
www.openealing.com