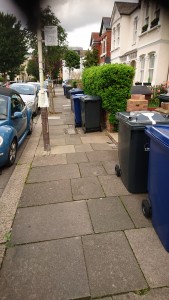 Our next bin collection in the Walpole ward is tomorrow morning and it's blue bin time this week. However, I took this photo in Westfield Rd this morning and it's clear there is still confusion with both black and blue bins out in the street.  I just hope it all settles down soon.
Like many other areas West Ealing has seen an increase in fly-tipping over the last few weeks. I've reported two fly-tips to the Council this morning which makes about five in the past couple of weeks. The increase in fly-tipping and the haphazard street cleaning are making our streets look a mess.  As far as I can tell, what street cleaning there is going on is just litter picking.  I've seen attempts to use road sweeping machines to clean heavily parked up streets, needless to say, to no effect. I've seen no sign of anyone actually sweeping the streets and the gutters to clean away all the leaves and other rubbish that will soon be blocking the drains in this rainy June.
I don't know what the Council's plan is to keep the borough tidy during the change of rubbish collecting system but what should have been built in to their plan is a special contingency to allow for the vans that go round collecting and cleaning up reported fly-tips to patrol our streets and look for fly-tips themselves as well as react to ones reported by residents. There were always bound to be teething problems but it feels like these are being left to residents to sort out rather than the Council being proactive.  Maybe I'm wrong. I hope so.