A couple of days ago I saw the sign in the window at Bensons for Beds that it will close down on 16th September. Then I was told that Star Burger (Burger King as was) looks shut, temporarily or permanently is hard to tell. Followed by the recently-opened Foodies store which also looks closed.  On top of these, Express Print has moved to Harrow.  That makes four shops closing in the last month and all are in the stretch of the high street going west past Melbourne Ave.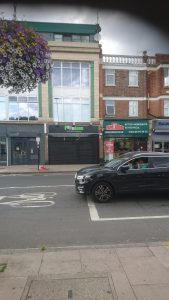 It's obvious that the footfall drops off drastically once you get past Melbourne Ave.  Admittedly, not every shop relies on footfall. A good example, is Juniper which sells school uniforms. This is a destination shop to which people will travel because such specialist shops are few and far between. Nevertheless, for most shops, getting enough passing trade is going to be a vital part of survival.
It makes me wonder whether the Council should no longer insist that when a high street site falls empty or is redeveloped it must include ground floor retail space.  What is the point when there are empty shops nearby? Wouldn't it make more sense to allow housing on the ground floor? I think that may be what will happen when the site of the Community Shop, also in this same stretch of the high street, is eventually redeveloped.
High streets are all under pressure from our changing shopping habits. Every year the percentage of shopping done online goes up and we have less need for the high street shops.  Sure, we can't get our hair cut online, our nails manicured or our teeth filled but almost everything else we can easily buy online.
One of the most interesting people writing, not to say warning, about the future of our high streets is Bill Grimsey,one time head of Wickes and Iceland. He said recently:'
"Forget retail for town centres, they need to become community hubs based on health, education, entertainment, leisure and arts and crafts."
Mr Grimsey's report says that facilities such as libraries and digital and health hubs should be part of the offering to bring back people to town centres, together with housing and some independent shops."  The BBC article is worth a read.  It may all be a coincidence that these shops are all in the stretch where the footfall drops off considerably but well worth thinking about what we want the future high street to look like.