Binfield Property Investment Trust's Planning Application for Chignell Place, a short cul-de-sac off Broadway in West Ealing centre, proposes 63 flats rising to eight storeys. 59 of these flats are one bedroom flats and many of them look to have a Gross Internal Area (GIA) of about 24sq m.  Both the new Draft London Plan and The Mayor of London's 2010 Interim London Housing Design Guide specifies a GIA (minimum space standard) for a one person dwelling of 37 sq m. For a bedroom alone the Guide specifies a GIA of 6.2 sq m and for 'adequate bed space' 8 sq m GIA.
The flats will be available to rent.
No flats for the disabled are planned and only four of the flats will accommodate a wheelchair. There are no public or disabled car parking space and no able-bodied car parking places.
There is a 'Laundry' on each floor, with a GIA of 3 sq m. Presumably this would house one washing machine for 10 -12 flats. There are bike stores on each floor but only one small, all purpose lift. A small café is also on the plan.
The plans are perhaps suitable for a student hall of residence, but the Planning Application is not couched in this way. One does wonder whether this 24 sq m living space will become a West Ealing centre standard should this application receive Ealing Council approval
Attached is a section of one of the plans – this shows Apartments 46, 47 48, 49, 50 and 51 on the fifth floor.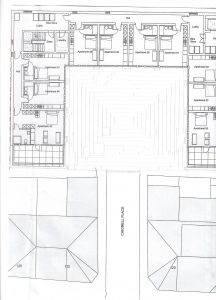 It's quite hard to get a good sense of how the site will look once complete but the image directly above clearly shows the actual area to be developed and the one at the top of this article and below  gives some idea of how it will look from the Uxbridge Road.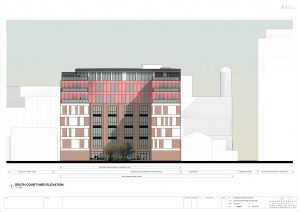 The Planning Application reference is 184490FUL and the Planning Application website is here. The deadline for comments is 30 November 2018.
Eric Leach
Vice Chair
West Ealing Neighbours