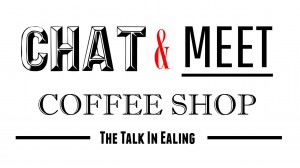 The OPEN Ealing shop in Drayton Green Road has been transformed in to a bright and relaxing cafe, open from Monday-Saturday 10am-4.30pm.  Working in partnership with OPEN Ealing Geoff and Gita have created a lovely space with the aim of giving people the chance to drop in for a first class cup of coffee or tea and have a chat with them or whoever happens to be there at the time.  I've dropped in twice and bumped in to people I know and had a thoroughly enjoyable half hour. It's got the potential to be just the sort of community hub and meeting place West Ealing needs.
In the evenings OPEN Ealing will be continuing with its arts activities and events, so it's great to see the shop being put to good use all times of day.
What is more, Geoff and Gita really care about the quality of their tea and coffee so have sourced some of the very best for you to drink.  Do drop in if you're nearby and try it out.