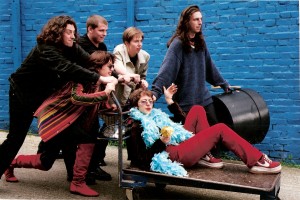 OPEN Ealing got a name check on Radio 4's Midweek programme this morning (Wednesday 18th) when Rosie Wilby was one of the show's guests. Rosie is rehearsing her new show How (not) to make it in Britpop. She will give a special performance of her show at OPEN Ealing on Wednesday 1st February before taking it on tour.
One of our aims at OPEN is to bring in as wide a range of events and activities as possible so, hopefully, we can attract people to venture in, perhaps for the first time.  I've already booked my ticket as I think it will be a great night.  Full details of her show are here:
Rosie Wilby presents her acclaimed show How (not) to make it in Britpop as part of National Storytelling Week
Wednesday February  1st at 8pm at Open Ealing. Tickets £5 from OPEN on 020 8579 5558 
"With her self-deprecation and spiteful bitchy asides, Rosie Wilby's Pop Diary blended delicious volumes of vocals and sparkling stand-up humour." Western Daily Press
"Good music, good comedy and a feelgood show – a winning combination." Oxford Times
From playing Glastonbury and Ronnie Scott's to miming on children's television, musician turned comedian Rosie Wilby looks back at the emotional rollercoaster of chasing stardom at the heady height of Britpop in her show How (not) to make it in Britpop – a revised version of her acclaimed 2011 Edinburgh Fringe hit Rosie's Pop Diary.
Mixing stand up, storytelling and acoustic versions of her songs, Rosie delves into a personal treasure trove of old photos, fan letters, reviews and the original 'Rosie's Pop Diary' (her '90s column in the now defunct music magazine, Making Music) for this funny and touching new show that explores the nature of nostalgia.
Rosie's Pop Diary traces the weird and wonderful story of a singer that nearly made it – from bizarre auditions, supporting Bob Geldof and Jamie Cullum to walking barefoot along one of London's busiest roads just because it would make a good album cover.
As Pulp, Blur and Oasis were making headlines, Rosie's house and belongings were literally going up in smoke, just days before her big album launch, as her house caught fire. Homeless and without any Cool Britannia clothes, Rosie thought it couldn't get worse until a friend donated an old Brownie uniform for her to wear at her own gig…
Rosie has appeared as a roving reporter on 5 Live and as a guest on BBC Radio 4's Loose Ends and Woman's Hour, LBC and BBC London. She was a finalist at Funny Women 2006 and Leicester Mercury Comedian of the Year 2007. Her previous solo show The Science Of Sex won a Fringe Report Award and was a sell-out at Cambridge Comedy Festival, Camden Fringe and Liverpool Comedy Festival. Still a passionate music lover, she writes for award winning website musicOMH.com and has previously written for the NME, Time Out, Ham &High and The Pink Paper.
She is currently developing the show with acclaimed theatre director Anthony Shrubsall, whose production of Security with renowned performance poet Zena Edwards was commissioned by BAC and Birmingham Rep. A former Artistic Director at the Drayton Court Theatre,Anthony is also a Fellow of the RSA.
For more info see www.rosiewilby.com